His name is Swarm and he is a giant bee.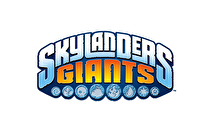 Swarm, the new Air Giant Skylander, was revealed in this month's Nintendo Power.
The character, which appears to be an anthropomorphic bee, is a bee prince who grew so large that he could not fit in his honeycomb pyramid kingdom. Naturally, that means he had to go fight the good fight with his fellow Skylanders.
He is one of the new Giant characters in the game, joining the the Life Giant Tree Rex, the Earth Giant Crusher, and the Tech Giant Bouncer. There will be a Giant for each of the elements, leaving the Water, Fire, Undead, and Magic Giants still unknown.
Skylanders Giants is coming to Wii, Wii U, and 3DS later this year.