Did you doubt the Activision CEO when he said Skylanders was hitting Wii U?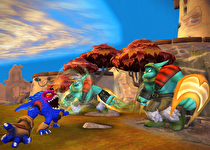 Skylanders Giants on Wii U has been rated by the ESRB, proving that Activision CEO Eric Hirshberg's comment at E3 2012 that the series was hitting Wii U was right on the money.
The game was rated E10+ for Cartoon Violence. Below is the full description:
This is an action platformer in which players assume the role of whimsical creatures that must save their world from an evil villain. Each playable character uses elemental attacks (e.g., Magic, Water, Earth, Fire) to defeat robots, trolls, and giant bugs; for example, dragons can spit fireballs, water creatures can shoot ice blocks, and bird-like characters can fire gusts of air at enemies that generally disappear amid colorful puffs of smoke. During some sequences, players can toss "cartoony" projectiles at nearby enemies, resulting in small explosions and comical yelps.
Skylanders Giants is set for a fall release on Wii and 3DS. The Wii U version currently doesn't have a set release window, though it is expected to be out around the launch of the system. It is also unknown who is developing the Wii U version, though it could possibly be Vicarious Visions, who developed last year's 3DS version of the original game. Toys for Bob is leading development on the Wii, Xbox 360, and PlayStation 3 versions, and n-Space is developing the 3DS version of Giants.