He believes the GamePad opens up 'fantastic' possibilities for Metroid.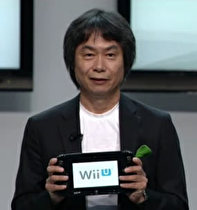 Shigeru Miyamoto is interested in seeing Metroid and Star Fox come to the Wii U.
Mr. Miyamoto points out that the functionality of the Wii U GamePad offers the possibility of interesting new gameplay mechanics. Specifically, he mentioned that "having another screen with the gyro built in really gives you a lot of interesting opportunities for development, and we can bring a lot of our games to life in a completely unique way with that."
In addition to his ideas for Metroid, he also mentioned that the franchise that he personally wants to see come to the system the most is Star Fox, a franchise that was skipped over on Wii. Outside of a Metroid-themed Nintendo Land attraction, no games in either franchise have been announced for Wii U.