The edutainment Poké-researching game gets a European release.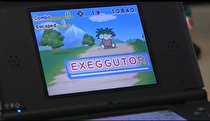 The previously Japan-only Pokémon typing game is set for an English release in Europe under the title Learn With Pokémon Typing Adventure.
In this DS software, players use the included Nintendo Wireless Keyboard to quickly and accurately enter in information to research over 400 critters from the Pokémon universe. The keyboard connects via bluetooth to the Nintendo DS, and can also be used with other bluetooth compatible devices. The keyboard will come in English, French, German, Italian and Spanish versions.
In the game, players run along a road with Pokémon popping out onto the path ahead, and the player must quickly type out the name of the creature to catch it as they pass. Only four mistakes allowed before a game over, and the stages get progressively harder. Learn With Pokémon Typing Adventure will launch in September across Europe.