The exclusive M-rated game was showcased at the Ubisoft press conference.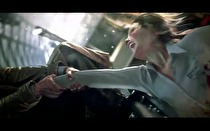 Ubisoft has announced Zombi U, a zombie apocalypse-based survival shooter exclusive to the Wii U. The game is the final form of the project once known as Killer Freaks from Outer Space.
At their press conference today, Ubisoft showed off a cinematic trailer of the game. The trailer consisted of shots of people in zombie-infested Great Britain involved in a number of gory situations involving the infected—combined with scenes of cells being infected by the virus—while "God Save the Queen" played in the background.
No actual gameplay footage was shown, though, according to a press release from Ubisoft, the game will use the Wii U GamePad controller, as demos of Killer Freaks did. The press release also detailed several of the first-person shooter's mechanics, including the ability to take control of another survivor upon death, the use of the GamePad's touch screen as an inventory (or "Bug Out Bag"), and a multiplayer mode that places one player in the role of "Zombie Master," giving them a top-down tactical view via the GamePad screen and the ability to spawn zombies against another player, who fights useing the Wii U Pro Controller.
What may have been video of the game was briefly shown in the Nintendo Direct conference yesterday.