Well, this looks pretty neat.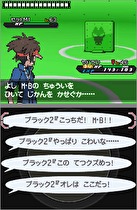 PokéWood, the new movie-making feature in Pokémon Black and White 2, was featured in the latest episode of the Pokemon Smash variety television show.
During the episode, it was revealed that there are numerous PokéWood scenarios to select when in the new game mode. Specific moves can be used once a script is selected to affect the outcome, and specific Pokémon can be rented for the PokéWood scenarios.
To learn more about Pokéwood, read our recent our preview on the feature, as well as this story further detailing it.