The poison gym leader and a certain movie-making feature get elaborated on.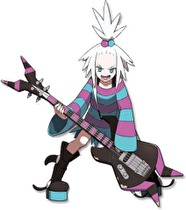 New details on gym leader Homika and PokéWood (the Pokémon movie-making feature) have been revealed via the anime.
In a comic version of the upcoming gym battle anime episode against Homika, it has been revealed that, among other things, the badge given out to the player after defeat is the Toxic badge. The comic also revealed that the city Homika is battled in is Tachiwaki City, and that she is the second gym leader in the game. In addition, a preview for the upcoming episode of the anime also revealed that Homika uses a Koffing in-game.
The same anime previews also detailed new information about PokéWood, the new activity (like contests and musicals) for the upcoming sequels allowing players to make movies. It revealed that the activity is done similar to battles, and shows off a water attack being used against MechaTyranitar. The upcoming feature will also be detailed in the next episode of Pokémon Smash, but the extent of which is unknown. You can read more about PokéWood in our recent preview.
Pokémon Black and White 2 releases in Japan on June 23, and comes out in western territories later this fall.