...in Japan.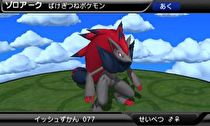 A final update for Pokédex 3D has been released in Japan.
The update unlocks all of the Pokémon normally only accessible using special AR markers, including Coballion, Terrakion, Victini, Virizion, Reshiram, and Zekrom. In addition, the game unlocks every other Pokémon the player hasn't obtained, even those normally not exclusive to their game (like certain Pokémon forms).
The goal of the update is to make the Pokédex fully complete before it goes offline on June 17 in Japan, in anticipation of Pokédex 3D Pro.
There is no word on when such an update would be released in other territories.