Manipulate colored objects in real life to pass obstacles in virtual 3D space.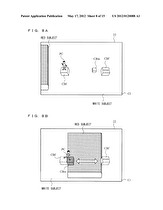 Several AR platformer ideas are explored by Nintendo in a patent application published today. The ideas revolve around manipulating the color of the real-life environment to produce effects in the virtual 3DS environment.
While Nintendo used background colors to alter the environment in their 3DS AR fishing game, such ideas have yet to be introduced in a platformer. The patent application details different possibilities where a colored book-like object introduced into a scene interacts with virtual objects in a game. Though the examples are simple, it is implied that there would be various timed levels requiring more thought, sequentially introduced after reaching each goal.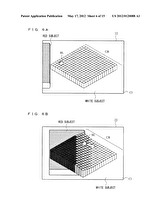 In the first visual example, a ball is shown on a flat plane. The introduction of a red object in the camera scene changes the raises the height of the ground above the "book," causing the ball to roll down the newly formed hill.
The second example shows a character who is trying to run across the screen, but is blocked by pits. Moving the red object under these pits triggers the ground to rise up so that the character can cross. The speed of the platforms could be dependent on the exact color of the real object. Building on this idea in the third example, a very large pit is introduced. Players must grab a floating block with the red book and carry it over to the character and then guide the block over to the goal.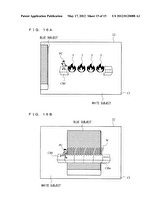 In the fourth and final visual example, the character is blocked by a wall of fire. Bringing a blue object under the fire causes rain to appear, which puts out the fire and lets the character cross.
Another set of examples notes that different colored objects could be combined. For example, if virtual plants were displayed on the screen, a blue object representing rain and a red object representing the sun could be overlapped in the camera view to cause the plants to grow. The colors could also represent physical alterations. For instance, if a character tried to run over a colored surface, he might be slowed down or sped up.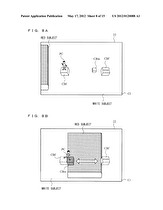 The game ideas are the work of Shinji Kitahara from Nintendo's experimental Software Design & Development group. Mr. Kitahara is credited in the Jam with the Band games, the Brain Age games, and a Japan-only economy simulator, Mono ya Okane no Shikumi DS. The patent application was filed on Nov. 11, 2010 in Japan and July 19, 2011 in the US. It is not clear if or when any of these ideas will make it into a published game.