You'd think it would only be funny to developers if the game is actually coming to the system.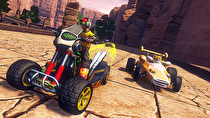 Sonic & All-Stars Racing Transformed, just officially announced today after months of rumors, might have a good chance of coming to Wii U this year, according to a few interviews with Joe Neate, producer at developer Sumo Digital.
"I'm sure there are still discussions ongoing about that at the moment. I think the platforms announced today are the only confirmed ones, but yeah, keep your eyes peeled for potential other platforms I'd imagine," Neate said to CVG.
Then he had this back and forth with Metro's Game Central blog:
GC: In terms of the formats the game's on, has Nintendo told everyone not to announce Wii U games? Because it seems impossible to imagine this, and various other recently announced games, aren't going to be on it.
JN: I couldn't possibly tell you. [laughs]
GC: You couldn't tell me because you know or because you don't know?
JN: [laughs] I… couldn't possibly tell you. But I agree with you, wouldn't it be a great idea to get this onto a platform like the Wii U!
Both: [laughs]
Sonic & All-Stars Racing Transformed is due out on 3DS and assorted systems later this year. Wii U is slated for a worldwide launch later this year.