UPDATE: Iwata dismisses possibility of "gatcha-type" sales of mystery items.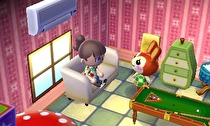 Nintendo is not and will not be in the business of selling mystery "gatcha-type" items as DLC according to CEO Satoru Iwata. As an example, Iwata said that Nintendo would "continue to make efforts to avoid such misunderstandings as, 'the next 'Animal Crossing' might be a game which relies upon add-on content sales.'"
Iwata's comments were made at recent Nintendo's end-of-the-fiscal-year investor meeting in Japan. The CEO was talking about the videogame company's plans to take advantage of DLC and downloadable titles in their 3DS and future Wii U hardware.
Iwata's "gatcha-type" description describes a "capsule toy vending machine business" that is popular in Japan where users purchase small toys via vending machines. Specifically, he was stating that Nintendo was not going to pursue downloadable content sales "which asks consumers to pay money without knowing what kind of item shall emerge as a result of their payment, even if such a business model might temporarily yield high profitability."
A previous Animal Crossing title, Animal Crossing: City Folk for the Wii, had DLC content as an online feature, but did not involve real money transaction sales in making that DLC available. The 3DS Animal Crossing that Iwata refers to is due out in the fall in Japan, and more details about the full feature set of the game will likely become available as the title nears release.
CORRECTION: The original story reported Iwata's comments that "the next 'Animal Crossing' might be a game which relies upon add-on content sales" without reporting on the full context in which those comments were made.
Thanks to Dcubed for Discovering our editorial mistake