Finally, it gets a release date. Also, it'll have all sorts of 3D and wireless goodness.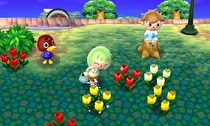 Animal Crossing for 3DS, known in Japan as Tobidase Doubutsu no Mori (Pop Out! Animal Crossing), is coming out this fall in Japan, according to today's Nintendo Direct presentation.
The game's title offers a hint about the gameplay, as Tobidase means "jump out," which refers to the stereoscopic 3D graphics and the game's wireless functions.
Some footage was shown, but no more details were elaborated on. Animal Crossing is still a "2012" release in North America and Europe, but it can be safely assumed it will come out in fall 2012 in both regions.