The son of Donkey Kong invades the 3DS, while Sonic the Hedgehog's fifth Game Gear apperance makes an encore.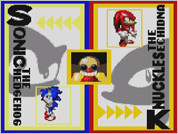 Sega's Sonic Blast for the Game Gear and Nintendo's Donkey Kong Jr. for the Famicom will be making their 3DS Virtual Console debuts in Japan next week.
Sonic Blast was originally the fifth Sonic game released for the Game Gear. The game will be released on April 18 for 300 yen.
Also on the April 18 is Nintendo's Donkey Kong Jr., the sequel to Donkey Kong starring his son. The game will be priced at 500 yen. There is no word on whether these titles will make their North American Virtual Console debuts as well.