The cult classic is headed to the 3DS this week.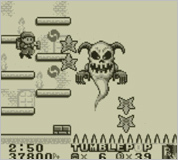 The Game Boy version of Tumblepop is coming to the Nintendo 3DS eShop in Japan on April 11 and will be priced at 400 yen.
Developed by Data East and originally released in the arcade in 1991, Tumblepop made its way to the Game Boy in 1992 (1993 in North America). The game puts players in control of one of two ghost-buster-like characters as they use their vacuum-cleaner-like-weapons to suck up creatures and then spit them back out as bouncing, rolling balls. Players have to eliminate all enemies in a specified period of time to advance to the proceeding stage.
Including Tumblepop, there are currently 58 Virtual Console games available for purchase on the eShop in Japan.