Pokémon Champion? Yeah, right. Try Pokémon Warlord!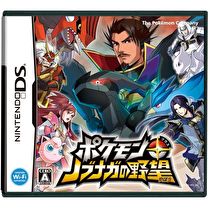 Pokémon + Nobunaga's Ambition is headed to North America on June 18 under the name Pokémon Conquest.
Developed by Tecmo Koei, the DS game takes place in a new land called Ransei where players must team up with with other Warriors and Warlords, who are based on the Nobunaga's Ambition series. In the game, players will be linked to their Pokémon partners and must attempt to defeat other commanders and their Pokémon allies in turn-based combat.
The Nobunaga's Ambition series dates back to the MSX in the early '80s. It first debuted in North America in 1988 on the NES. While there have been numerous entries in the series, it has been rarely brought outside of Japan.
The game came out in Japan in March, and is currently unconfirmed for any other regions.