The hit WiiWare game is now making its way to the 3DS.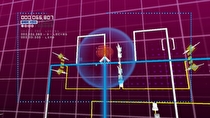 Update: A Nnooo representative confirms that the game will be a downloadable title on the 3DS eShop.
WiiWare game escapeVektor will be now coming out for Nintendo 3DS and Playstation Vita, Australian games developer Nnooo announced today.
Nnooo's Creative Director Nic Watt mentioned that the new version of the game will be incorporating the proposed extra chapters that the developer was originally planning for future WiiWare releases, combining the four into one game.
The game will feature lots of new enemies and obstacles along with online leaderboards. The game will be in 3D, showing off some cool effects such as having the background environments pulsing in time to the various chip-tune music tracks.
An early build of the 3DS version will be showcased at GDC.