Escape the third dimension!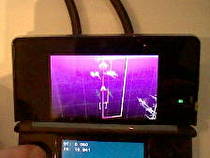 Nnooo's Nic Watt surprised us with a Swapnote photo of escapeVektor running on a debug Nintendo 3DS.
This picture was an early Christmas gift from the Australian game studio. The creative director didn't go in any detail about this, but we do know that the must-have WiiWare game will find its way to the handheld in some capacity next year. Will this be just a port of or a sequel to escapeVektor - Episode 1? We will keep you posted.