You'll be able to play the game's opening segment before the game comes out.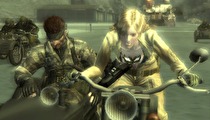 The Metal Gear Solid Snake Eater 3D demo is coming to the eShop in North America on Thursday, Konami announced.
The full game comes out on February 21, and is a 3DS port of the PlayStation 2 title. While it's unknown if the demo will support the Circle Pad Pro, the full game will. The peripheral came out in North America on February 7 as a GameStop exclusive.
Europe is also receiving the demo on Thursday.