One of the biggest games for the Wii breaks even more records.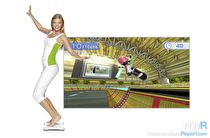 The Wii Balance Board has been awarded the Guiness World Record for the best-selling personal weighting device, Nintendo recently confirmed.
Between the launch of the peripheral and its game, Wii Fit in 2008 and November of 2010, a total of 32,114,428 balance boards were sold worldwide. With 9,451,107 units, nearly a third of those were bundled with Wii Fit Plus, the update released in 2009 that adds new activities and features to the original Wii Fit software. Overall, over 19.31 million copies of Wii Fit Plus have been sold.