Early bird Black Friday shoppers will get to nab the elusive blue Wii at sister store Sams Club as well.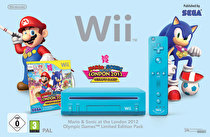 Update: The Blue Wii will also be available at warehouse club chain Sam's Club, according to the store's preview of its "Day After Thanksgiving Event" ads. Though the Walmart ad claims "Only at Walmart" for the blue version of Nintendo's home console, Sam's Club's having the item on sale could have something to do with the fact that the warehouse chain is owned and operated by Walmart Stores, Inc. Sam's Club's ad pegs the Blue Wii at a cost of $99, and also claims the console will be available at the store's online site while supplies last.
The Blue Wii is coming to North America, though it will be a Walmart exclusive, according to a Black Friday shopper.
The system has been announced for Europe as a Mario and Sonic at the London 2012 Olympic Games bundle, although no word was made regarding the system's availability in North America. This confirms that it will be coming, however, it will be in limited quantities. Walmart will be selling the system for $99.96.
In addition to the Blue Wii system, several Wii titles will be available at a budget price during Black Friday. Some of these include last year's Epic Mickey, LEGO Harry Potter Years 1-4 and Toy Story 3 for $15 dollars each.