Monster Hunter fans can get a limited edition 3DS unit and more this December!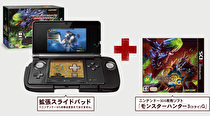 Nintendo and Capcom are releasing a limited edition Monster Hunter 3G Nintendo 3DS hardware bundle on December 10 in Japan.
The unit itself is a specially designed white 3DS that has Monster Hunter 3G logo and markings and retails for 20,800 yen ($270). Monster Hunter 3G will also be released bundled with the Kakuchou Slide Pad attachment on the same day for 6,990 yen ($91) and the game on its own for 5,800 yen ($75).