Price drops and possibilities of the Ambassador program drive players towards used systems.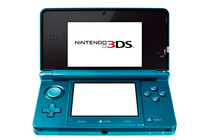 Sales of used 3DS systems doubled after Nintendo announced the upcoming price drop, according to Media Create in Japan.
The report cites several possible reasons as to why the sales doubled. One of these is that players may be eager to participate in the Ambassador program, which will offer free games for early adopters of the system, before the price officially drops. Another is that shops are dropping prices on used systems, with an average ¥4,000 reduction reported.
Media Create also cites a drop in sales of new 3DS units right after the announcement was made. The system sold 16,415 units during the week of July 25 through 31. On the day of the announcement and the two days prior, the system sold around 14,000 units. On the three following days, just 3,000 units were sold.