Iwata speaks about Nintendo's future plans for the eShop.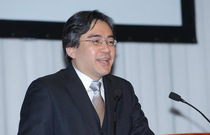 During a recent Q&A, Nintendo president Satoru Iwata revealed that Nintendo is currently preparing a paid item transaction system (DLC), for both the 3DS and the Wii U. He also added that Nintendo will likely not be using this themselves, because they believe doing so would not be good for building a strong relationship with their customers.
Iwata is not completely opposed to paid content in general. He was, however, more negative on the concept of having a game that is free to play, but charges users for item purchases. He feels that that sort of game would damage the premium value of Nintendo's content.