The upcoming 3DS Pokémon game has been delayed due to "various circumstances."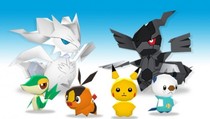 Super Pokémon Scramble, known in North America as Pokémon Rumble Blast, has been delayed in Japan.
The official announcement on Nintendo's website states that "various circumstances" have prevented the game from meeting the original release date. It will now be released on August 11, 2011.
Super Pokémon Scramble is a sequel to the WiiWare game Pokémon Scramble. Players take control of little Pokémon toys as they do battle against various opponents.
The North American version, Pokémon Rumble Blast, is scheduled for an October 24, 2011 release.