Fox and crew will invade the 3DS a couple days earlier than expected.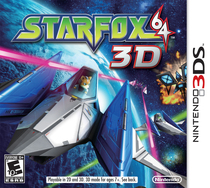 Star Fox 64 3D has a new September 9, 2011 release date.
Previously, the title was set to be released on September 11, 2011. No details were given as to why the game's release was moved up.
Alongside the new release date, Nintendo released a new trailer for the game, which highlights the graphically updated levels as well as re-recorded character dialogue.
Star Fox 64 3D will also be making an appearance as a playable demo at this year's Comic-Con.