A Japanese retailer lists Super Pokémon Rumble for the Nintendo 3DS.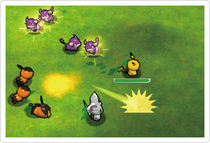 Earlier today reports emerged that a Japanese retailer had a new Pokémon game for the Nintendo 3DS in their pre-order system.
The image showing the game comes from 2ch, and according to the photo pre-orders will start on June 15th. The game is supposedly a handheld sequel to the WiiWare release Pokémon Rumble.
It should be noted that a new Pokémon game is scheduled to be announced in next week's issue of CoroCoro magazine. Only time will tell though whether the new game will be this rumored sequel to Pokémon Rumble.
UPDATE: The game is now listed on Nintendo's Japanese website as Super Pokémon Scramble. It will be a one-player game, and is due for release on July 28.