The July launch of Capcom's zombie-blasting 3DS title is the latest in a line of Nintendo-distributed games.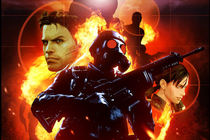 Nintendo of Europe will distribute Resident Evil: The Mercenaries 3D when it arrives on 3DS in July.
Based around the Mercenaries modes from Resident Evil 4 and 5, The Mercenaries 3D puts the player in control of a character from the Resident Evil franchise and tasks them with killing as many zombies as they can before time expires.
Nintendo has a history of distributing Capcom games in Europe. In this year alone they've already handled distribution of Ghost Trick, Okamiden, and Super Street Fighter IV: 3D Edition on Capcom's behalf.