Players hoping to blast zombies in 3D will get their chance in June.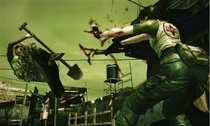 Capcom announced that their first Resident Evil title for the 3DS, The Mercenaries 3D, will be released on June 28, 2011.
Along with the release date, Capcom released new screens featuring Rebecca Chambers, star of Resident Evil 0 and a member of the Resident Evil supporting cast.
Resident Evil: The Mercenaries 3D is based off of the Mercenaries mode found in Resident Evil 4 and 5, and will feature characters from past games, including Chris Redfield, Jack Krauser, and more.
You can read Neal Ronaghan's impressions of the title here.
Watch a new trailer for the game below.