Ideas mentioned include 3D enhanced gameplay and eye-specific imagery.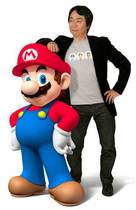 Recently, Nintendo staged a press conference in Paris where famed developer Shigeru Miyamoto shared some of the 3DS ideas that the company is working on.
One of these ideas is a game in which certain images are presented to the gamer's left eye, while other images appear only to the right. As an example, Miyamoto described a game in which players deal with phantoms that can't be seen normally.
Another idea is a game in which the player moves the 3DS around in space to look at a scene where they will find that items might not be what they seem when viewed from other angles.
Finally, Miyamoto also mentioned that Nintendo is studying the idea of connecting the 3DS to Nintendo's future console, the recently revealed Project Café, to use as a joystick.
Regarding other 3DS details, Miyamoto says that development of Ocarina of Time 3D is completed, that Star Fox 64 3D will feature motion controls and that he expects Mario Kart for 3DS to be released this year. He mentions that Ocarina of Time 3D will include a mirror mode in Master Quest, and the game runs at 30 frames per second instead of the original's 20.
Super Mario for 3DS is still in the heavy development phase, but he promises that the game will have elements of Super Mario 64, Super Mario Galaxy and New Super Mario Bros. To maximize the 3D effect, the game will include a fixed camera system, similar to a mode in Super Mario 64, allowing Mario to walk toward and away from the camera. A full unveiling of the game will happen at this year's E3 event.