Nintendo president Satoru Iwata provided some details about the upcoming 3DS remake.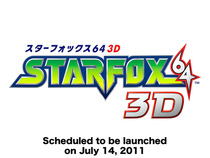 Star Fox 64 3D, the "newly-arranged version" of the Nintendo 64 classic, will feature gyroscopic Arwing controls, as revealed by Nintendo President Satoru Iwata during Nintendo's Financial Results Briefing earlier today.
Iwata didn't offer many more details on what exactly was going to be newly arranged in the game, but he reiterated that the title is set to release on July 14, 2011 in Japan.
There is no release date set in North America and Europe, though it is expected to come out during the summer.