Nintendo also announced the 3DS would have a 3D movie trailer service, a short-form 3D video channel, and 3D video recording.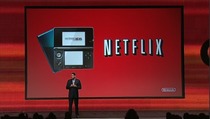 Nintendo announced a partnership with Netflix to bring content to the Nintendo 3DS this summer. Netflix members will be able to resume videos from other devices such as the Wii. Viewing will be in 2D.
In terms of 3D content, movie trailers will be viewable following the May system update.
A short-form video service acts like a portable Nintendo Channel exclusive to 3DS with Nintendo-moderated content such as comedy clips and music videos.
The 3DS will also allow users to record their own videos in 3D.