The 'HD' remake of the arcade classic was revealed in an ESRB listing.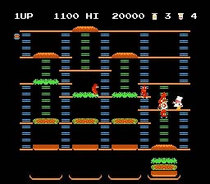 A listing on the ESRB website has revealed MonkeyPaw Games' first multiplatform title to be BurgerTime HD.
A remake of the Data East arcade classic, BurgerTime has the player build burgers by walking over ingredients, causing them to fall from platforms towards the bottom of the screen. In the 1982 version of the game, the player must avoid animated food, as coming into contact with them makes them dizzy, and the ESRB description indicates that the remake will be feature similar gameplay.
MonkeyPaw Games specializes in producing retro games "that make you feel like you did growing up…but with today's graphics and intensity." They deliver games exclusively via downloadable platforms, so BurgerTime HD will most likely be available via WiiWare (as well as via Xbox Live Arcade and PlayStation Network).
MonkeyPaw Games has not officially announced BurgerTime HD, so no release details are currently available.