First combine your game with AR cards, then marvel at the cute results.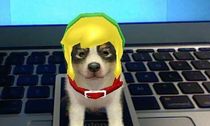 The AR Cards included with the Nintendo 3DS can be used with Nintendogs + Cats to provide adorable results. While we already know that you can use the "question block" card to display your pet in 3D wherever you please, each character card adds a hat to your Nintendog.
The Link card adds his signature blonde hair and green hat, the Samus cards covers the head completely with a visor, the Pikmin card adds a blue Pikmin cap, the Mario card, as expected, adds the Mario cap we have already seen in the game, and the Kirby card shows the pink blob perched right on top of the dog's head.
Destructoid has a full gallery of Nintendogs AR photos.