Besides Target Shooting, there are plenty more games ready to play.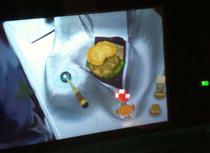 The Nintendo 3DS is set to launch with six augmented reality titles, activated by printed cards included in the box.
Besides Target Shooting, which has been demonstrated extensively, a shooting, fishing, graffiti, Nintendo character display, and Mii display games are said to be built into the system, an anonymous source told Wired.com. The source went onto say that the list of titles was provided to them but then pulled, suggesting that there may be a change to the final lineup.
Each of the titles uses the 3DS cameras to show a 3D image of your surroundings and incorporate them into the game. The fishing game turns a table into a fishing pond, while the player tilts the console to lower and raise the rod to catch bigger and bigger fish. A second shooting game, AR Shot, plays similarly to billiards but adds obstacles by warping the displayed terrain. The graffiti program lets you paint, spray, and add special effects, such as fire to drawings, which can then be displayed and manipulated in 3D.
As revealed last week, the Star Pics program displays a statue of a Nintendo character, each using a different card, and different poses can be chosen with the face buttons. A separate program, Mii Pics, has the same function for Mii characters.