Be careful where you put it!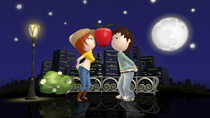 Ubisoft recently revealed a new Wii and PlayStation 3 title for the European market called We Dare. The game features an array of different mini games for players to compete in but with a spicy twist. The genre marker on the official website describes it as a "Sexy Party Game".
On the surface it looks similar to other mini game collections on the Wii, but to complete the various games, players will have to move and or place the Wii remote into suggestive positions. Such as one person laying over someone's lap, while the other pats the Wii remote tucked into the back of their pants. Or dangling a Wii remote between two people's lips while they try to bite away at an imaginary apple.
Ubisoft has released some promotional video content showing some of the 'acts' that players have to complete, but the video has been region locked on their official Youtube channel and is available to view only in Europe and Australia. We Dare is due for release on March 11, 2011.