And that's about all we know.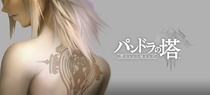 Pandora's Tower, a new game for Wii from Nintendo, was announced at a Nintendo investors meeting in Japan today.
A teaser site has been opened, with the following mysterious words:
Pandora's Tower
Until I Return to Where You Are
Who's happier? The person who dies beautiful or the person that lives ugly?
Scheduled for Release Spring 2011
Not much else was said about the title, other than that it is nearly finished and will release in Spring in Japan. The company plans to gradually release more information about it over the next couple months.
Translation provided by Matt Walker, Japan Correspondent.