The first game to support the headset will be Conduit 2.
Those that have used Wii Speak know that it is a less-than-optimal solution for voice chat during online gaming sessions. PDP realized this and have created the Headbanger Headset, the first headset specifically for the Wii console.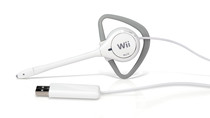 According to PDP, Sega's Conduit 2 will be "one of the first titles" to support the peripheral. There's no word as to whether or not the headset will work with other prominent titles like Monster Hunter Tri or Animal Crossing, but NWR has contacted PDP for more details.
Special thanks to DAaaman64 for the news tip!