The CEO of Nintendo has the graphs to prove it. Also, Nintendo will up Wii production to 2.4 million units in July.
Instead of simply sticking to the numbers on revenues and profits, Nintendo CEO Satoru Iwata used an end-of-fiscal-year briefing to address a variety of issues. He touched on increased Wii supply, third party game sales, industry beliefs he felt were obsolete, and Nintendo's new goals going forward.
Early in the briefing, Iwata announced that in order to meet projected shipments for the next fiscal year Nintendo would increase production to 2.4 million units of hardware a month, starting in July. This would amount to a 600,000 unit increase over their current 1.8 million unit capacity, a sizable amount for a company that's renowned for playing things safe.
Iwata also tackled a question that was on everybody's mind: Do third party games sell on Nintendo systems? Iwata explained that third party games made up a significant portion of Wii and DS sales in America and Europe. In Japan though, third parties sales have taken much longer to catch on. To illustrate this, Iwata presented the following slides: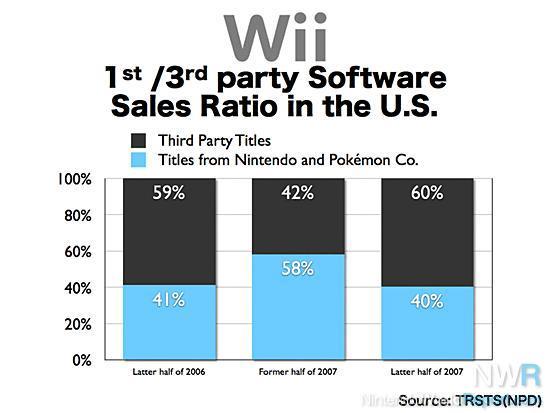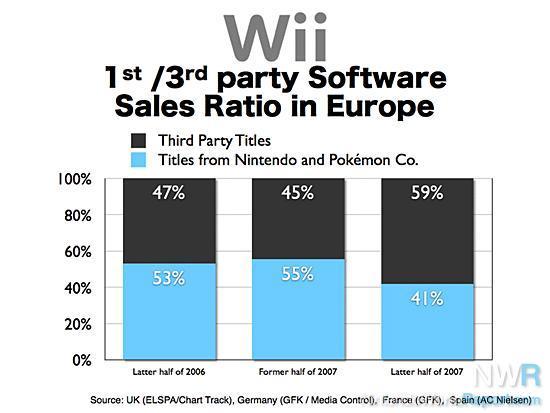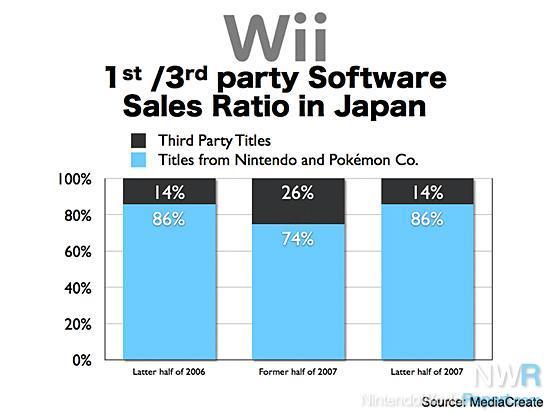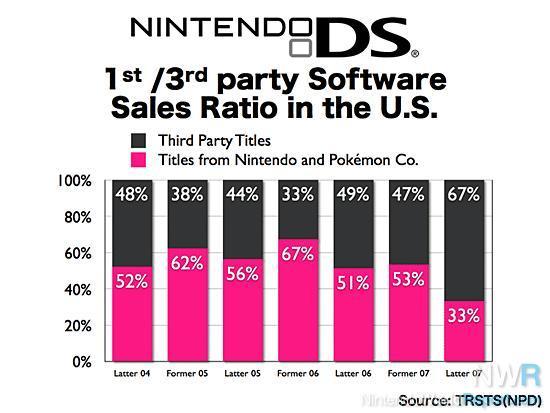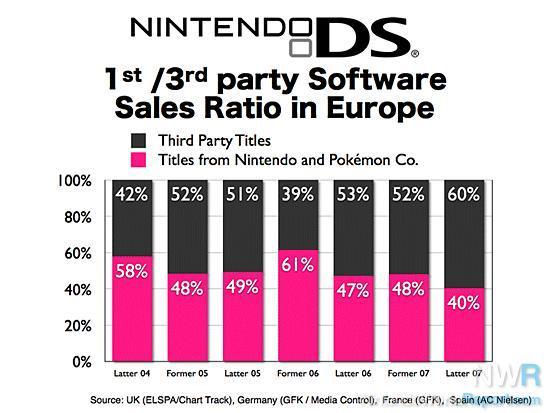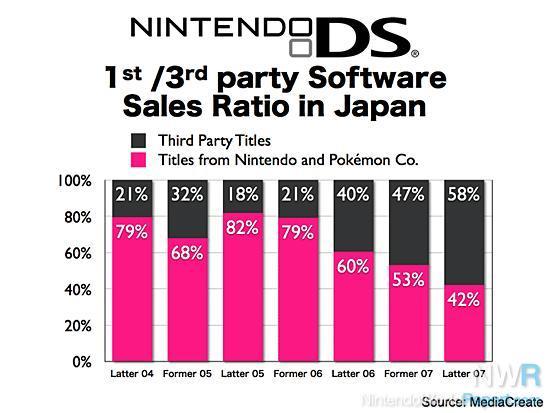 Iwata also numbered how many of the million sellers on the Wii and DS were first versus how many were third party. He claimed that 29 of the 57 million sellers on the DS were first party, making it a roughly even split with 28 third party games selling over a million units. And of the Wii's 26 million sellers, twelve games, almost half, were from third parties.
However, Iwata still believed that there was room for improvement. He admitted that "[it was] inevitable for our third party developers to need some time before they can realize that DS and Wii can become the hardware platforms that they are willing to spend their important resources on." Iwata also pointed out that the Wii was earlier in its life cycle than the DS, and that as a result "it might be inevitable that first party titles continue to show significance presence there."
Iwata also mentioned that 56% of the companies, outside of Japan, working on WiiWare titles were made up of less than 20 employees. 75% of WiiWare non-Japanese developers were made up of less than 50 employees. Iwata took this as a sign that these companies felt that WiiWare was a "worthwhile business for them to aggressively pursue." He even showed a video of the upcoming WiiWare title World of Goo, from three-man game company 2DBoy. He spoke about the impact that World of Goo had made, saying, "internally at Nintendo, a lot of positive talks can be heard about this today."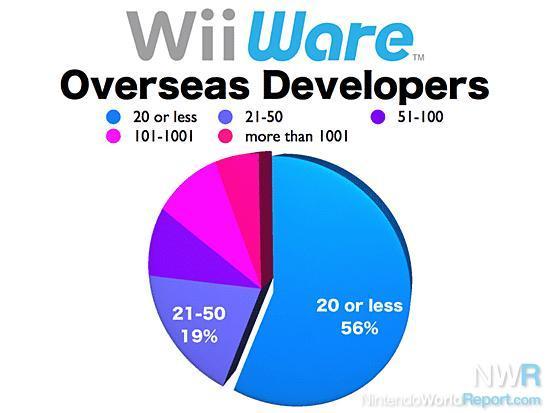 Iwata explained that he felt that a paradigm shift had occurred: "what used to be regarded as common sense in one industry no longer works."
He explained that whereas the GBA had tended to decline in sales over its lifespan, the DS had actually increased and was only recently hitting its peak. Connecting this trend to the Wii, Iwata stated that "For Wii too, I believe in the great potential that we can create a brand new trend that cannot be applied to any past platform cycles."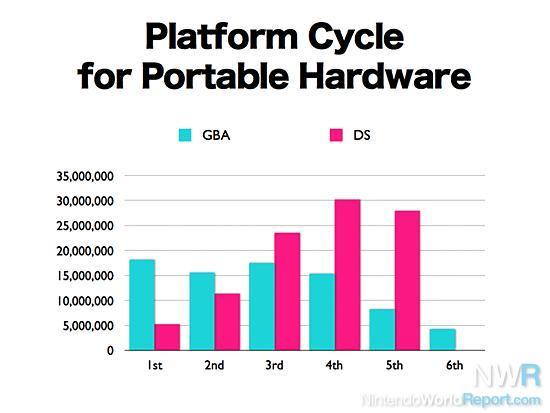 Two more slides listed a series of "beliefs" that Iwata felt have been made obsolete in the changing gaming market:
Video games are entertainment mainly played by children and young male adults, and would be challenging for females and senior citizens to enjoy
Nintendo is for kids
The great majority of software has a short life-span, and longevity in software is difficult to achieve
Marketers must maximize a game's awareness at launch
After the initial launch, the only way to sell software is at a discount
Software for portable machines sell less than software for consoles
Major revenue for software business is the home console platform
Iwata had one final thing to point out before the briefing ended. Nintendo had set a long-term goal of shipping over 300 million copies of software for the Wii and DS in a single fiscal year. Iwata admitted that he had believed it would be several years before they reached this goal. Instead, Nintendo had achieved this mark in just one year.
So Iwata went on to describe what he believed should be Nintendo's next goal. Nintendo had been periodically tracking the number of people who used their systems, and found that the Wii and DS had exceptionally high numbers of people in the same household who played the systems. However, the number of users per household in the U.S. trailed Japan's.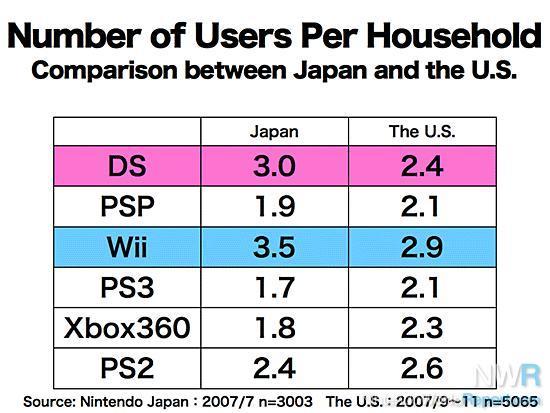 Instead of simply aiming to sell more units or make more money, Iwata declared his intention to see more families come together over Nintendo systems. "When these US numbers get much closer to the Japanese ones, videogames will become something really relevant to all family members," he said, believing that this would further expand the gaming population and consequently expand software sales.
Be sure to follow the source link at the top of the page to view more slides and Iwata's full presentation.