Customize your character from the ground up! Almost...
Atlus is keeping their presence on the 3DS strong in the coming year with a couple of re-releases and the debut of a new Etrian Odyssey. Following a trend we've been seeing from many E3 titles this year, the latest entry in this dungeon-crawling series calls back to its roots for a more simplistic experience while maintaining challenging and fulfilling exploration.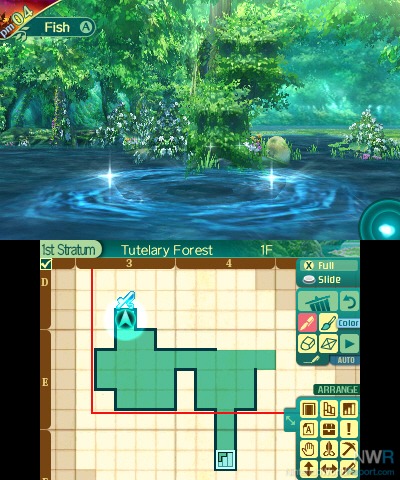 Etrian V scales back on any side story and additional features and streamlines the entire game to once again focus strictly on the game's main dungeon. The mechanics within the dungeon are very familiar for experienced Etrian players: random encounters, manual mapping, and minor bosses wandering around that will wreck you if you're unprepared. The only major change appeared to be the addition of several new mapping icons to make your exploration a little more detailed and backtracking that much easier.
While the dungeon-crawling gameplay doesn't seem to be anything new, Etrian does step it up in terms of character and class customization. Hair color, eye color, and skin tone are all yours to choose, as well as the character's voice. There are actually 40 voice options to choose from, the most out of any Etrian game thus far. Not all customization is just cosmetic, however. Racial choice actually affects how your class runs as well. Unfortunately, we didn't get a chance to play with this feature in the demo, but it will be interesting to experiment with the options further when the game releases.
Overall, our sneak peek was a pretty straight forward foray into the dungeon, but still satisfying in the way that an Etrian game usually is. Atlus doesn't seem to be stretching themselves into unknown territory with this title, but the few upgrades we see should be enough to offer a new kind of challenge.