Three of us got hands-on time with the port – what's it all about?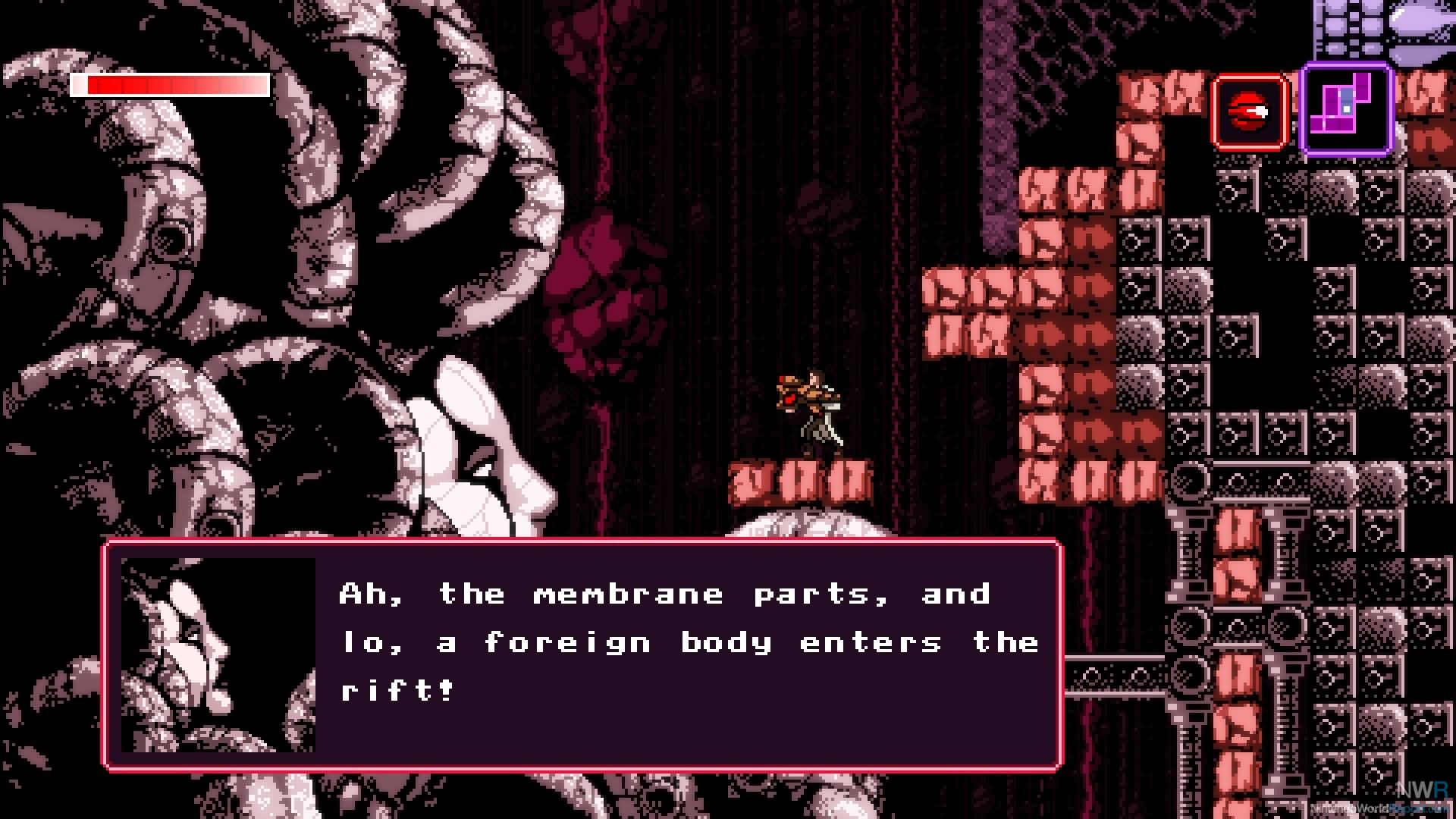 At PAX East 2016, three NWR attendees got together and played the upcoming Wii U port of the well-received Axiom Verge, originally released on PlayStation 4 last March. This version is due later this year, and features a few new GamePad features. I (Alex) came into this as a newcomer to the game, with this being the first time I played it, while both Neal and Zach are much more experienced.
Alex: I've never played Axiom Verge on any platform before trying the Wii U version, so I'm not totally sure what's new other than the map and weapon selection being moved to the GamePad (you guys can definitely fill me in on that). What I will say, is that as a newcomer, I was surprised at how not-totally-Metroid this game is. It is totally Metroid, but I would say that its combat has a certain fluidity that reminds me of Contra or Metal Slug even more than it does Metroid and Super Metroid.
Neal: You got it: the Wii U version just basically adds the map/inventory on the GamePad and nothing else. I couldn't even find a way to play Off-TV, but you'd think that feature has to be there.
When I went to play Axiom Verge on PS4 last year, I expected a slavish Metroid-influenced experience. Don't get me wrong: Axiom Verge draws heavy inspiration from Metroid, but it's much more than that. The weapons and bosses reminded me a lot more of Contra than I ever expected. If I had to give it a stupid genre-creating moniker, I might call it a Controid.
Zach - I know you played the Vita version on your flight to and from Boston. How did that compare to the Wii U version? Would you be down for playing the Wii U version for a replay in lieu of another system?
Zach: I've played through most of the game on PS4 and now Vita. I will likely triple-dip on Wii U. Having the map on the GamePad is a huge advantage. The game also runs poorly on the Vita for some reason.
Axiom Verge is crazy good; I agree that the combat, and especially bosses, has a real Contra vibe to it. The different weapons seem nice on the surface, but I honestly only use two or three of them routinely.
Big shout-out to the soundtrack, which is just the best thing. Unlike Metroid's heroic, upbeat soundtrack, Axiom's sets a very different mood. The whole game, including the storyline, is kind of tragic and isolating. I can't say enough good things about it.
Alex: How is the storyline? Does it stay minimalist like the early Metroid games or does it pull a Shovel Knight and have that surprising retro indie depth to it? I got the impression (from my 10-15 minutes with it) that it was gameplay, gameplay, gameplay much like those early Metroid games. Am I mistaken?
Zach: Yup. It goes pretty deep later on, with cutscenes and shit. Never overwhelming, but impactful.
Alex: That sounds very Shovel Knight-y in a good way. Let's end on this: Neal, who is this game for? What would you say to someone like me who was on the fence?
Neal: People who like good video games and can tolerate being hopelessly lost at times. The best through-point is definitely that it's "totally like old-school Metroid," but reducing Axiom Verge to just that is a little disingenuous. The setup feels super Metroid-like, but it spreads out into this beautiful, expansive adventure with game-changing late game power-ups, lots of shooting, and a surprisingly engaging story.