Capcom certainly doesn't object to having a new Ace Attorney at TGS this year.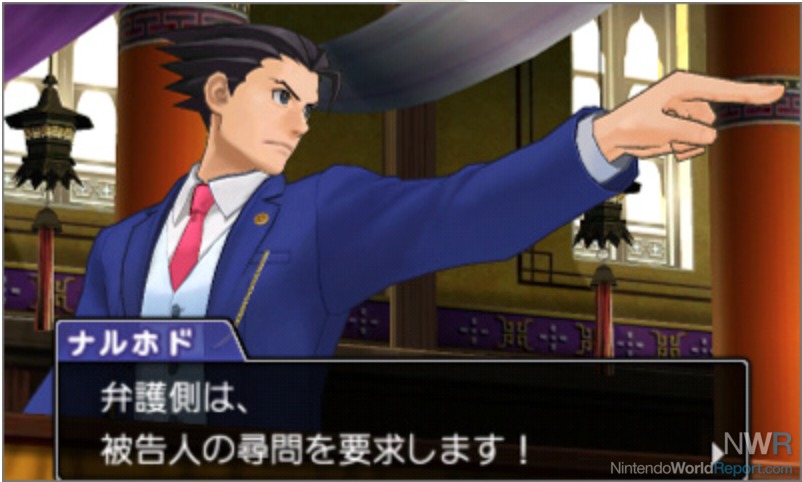 Gyakuten Saiban, or Phoenix Wright : Ace Attorney as it is known in the West, has been around for quite a long time and has made many appearances at the Tokyo Game Show throughout the years. This year, Capcom is making a return to form by showcasing the latest entry in the series, Phoenix Wright: Ace Attorney 6, with a playable demo on the show floor. To be perfectly honest, having never played a game in the series before, I was a bit apprehensive to tackle a demo of the game in such an environment. After entering the elaborately decorated booth and getting a brief hands-on, I left surprised by what I saw.
The whole setting behind Ace Attorney 6 puts Phoenix and his team in the mysterious Kurain (potentially Klein?) Kingdom. The kingdom doesn't exactly have what most would consider a modern court system, but rather relies on oracles to render verdicts in cases making the need for defense attorneys like Phoenix unnecessary. Of course, he objects the minute that his tour guide, Bokuto, is accused of a murder that he claims he has no knowledge of. After being thrown into this kangaroo court, it's now your job to try to prove the friendly tour guide's innocence. You're presented with numerous pieces of evidence to use to try to make your case to the presiding priest-like judge.
Ace Attorney 6 seems to be running on the 3DS engine behind Dual Destinies and the recently released Dai Gyakuten Saiban (The Great Ace Attorney). The characters still look extremely sharp and with the new setting in Kurain, the inhabitants and locations have quite a different look than what you would find in previous titles. The court room is now almost cathedral-like and rather than being full of lawyers wearing nice suits is filled with priest and priestess-like characters. It's an interesting visual and narrative dynamic that is likely going to set up some pretty crazy stories and interactions.
Sitting through a 10-15 minute demo on a loud show floor for a game like Ace Attorney 6 simply isn't enough to get a complete feel of what kind of experience the final game will provide. Regardless, the game looks great and is set to give more crazy cases that fans of the series can definitely look forward to. Ace Attorney 6 is scheduled to hit retail in Japan in 2016 and has been confirmed for a release in the West. Be sure to check out the trailer below.