We have our paws on the upcoming version of Animal Crossing!
Upon starting Animal Crossing: New Leaf, I was keeping a keen eye on what felt the same as and what felt different from previous installments of the franchise. Having put dozens of hours into the original Animal Crossing, but fading quickly on every version since, I was looking for something new to keep the experience fresh.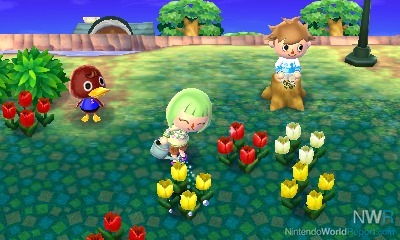 Among the things that were immediately different, the most noticeable was the new tutorial mode. Rather than working off debt from town overlord Tom Nook, you are appointed mayor and have to work with Nook to secure home ownership before you can establish yourself as a resident and begin your mayoral duties. This initial segment of the game is far less guided than the traditional "work for Nook" tutorial of previous games and allows you to proceed at your own pace.
Every game in the series has felt slightly different, but New Leaf presents the largest amount of change yet, opening a second-hand shop in town while splitting tools and home improvements to separate shops on "Main Street," which replaces the City from the Wii game.
While the 3D effects are largely underwhelming, I am quite impressed by the visual polish laid on top of the existing Animal Crossing style. The grass shimmers under the sun as it fades into the background, and the animals seem far more textured than before. The visuals definitely feel like a substantial upgrade from the Animal Crossing I'm used to seeing, even if the style is largely the same.
The good news for longtime fans of the series is that its addictive nature is fully intact. Despite the fact that the game is meant to evolve slowly over time rather than at the whim of the player, I am finding myself playing the game often, even if all I can do is shake trees, talk to animals, and sell seashells I found by the sea shore. Every morning since I got the game, I grab my 3DS and play a few minutes even before getting out of bed (even before checking my iPhone!). I cannot wait until I have people to play with online, new shops to visit, and new fruits to plant. In other words, Animal Crossing is still a game that will consume you initially. Whether it has the lasting power of the earlier games in the series remains to be seen.