An unlikely arcade classic returns.
MonkeyPaw Games has been bringing classic games from Japan to the West through emulation. This time, they decided to try a slightly different route, partnering with Frozen Codebase to completely reinvent a Data East classic, BurgerTime. BurgerTime HD is coming to WiiWare, PSN, and XBLA, though it won't actually be in HD on Wii. Update: the name has been changed to BurgerTime World Tour.
The original BurgerTime came out 29 years ago, in 1982. BurgerTime HD keeps relatively close to the same unique gameplay, pitting a chef, Peter Pepper, against angry hot dogs, pickles, and fried eggs, among others. Peter must walk across giant hamburger ingredients (buns, burger patties, lettuce leaves, tomatoes, and cheese slices), so that they fall to the platform below while avoiding pursuit. Once all of the ingredients have fallen to the bottom, the burger is finished. All burgers must be completed to progress to the next stage.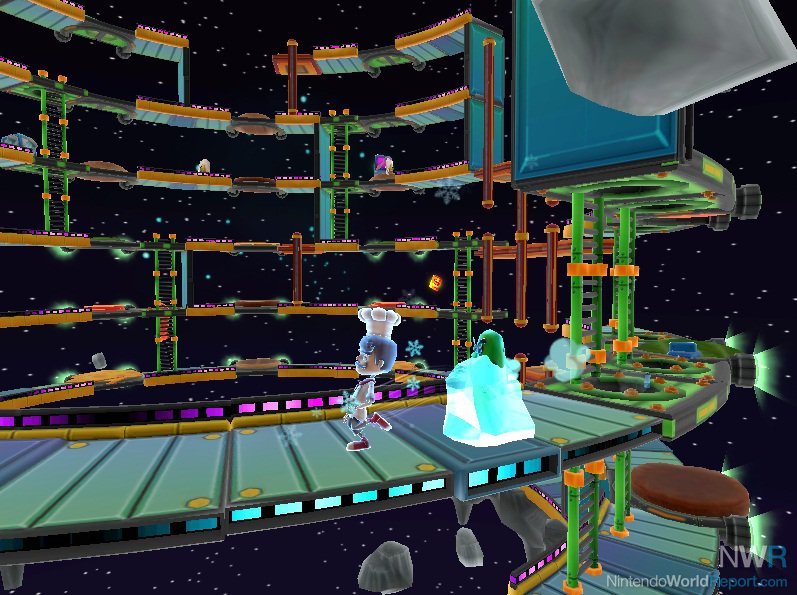 Though the actual platforming is still 2D, the stages are mapped onto cylinders, floating in a spacescape. This makes it harder to see what's going on outside of your immediate area, thereby increasing the challenge. The game includes stages that are more complex than the original and as players progress, the game's deviation from the original increases, where more complicated platforming and hazards await. But the essence remains the same: complete hamburgers by walking over their constituent ingredients.
The one key change to gameplay from the original (though featured in the 1990 sequel) is the ability to jump. This changes the game dynamics by letting players leap over enemies or across ladders. The addition of the jump mechanic reduces some of the frustration of getting trapped in the original, making the game more fun and interesting. Enemies have different abilities as well. For example, eggs can dash, and pickles can jump.
As in the original, players can collect black pepper, which can be shot at enemies to stun them. The game is controlled with the Wii Remote in NES configuration, with jump and pepper mapped to buttons 1 and 2. There's a whole arsenal of new power-ups, such as a freeze attack, fly swatter, and rocket, which are triggered with the B button when equipped. In some circumstances, enemies can even be picked up with the A button.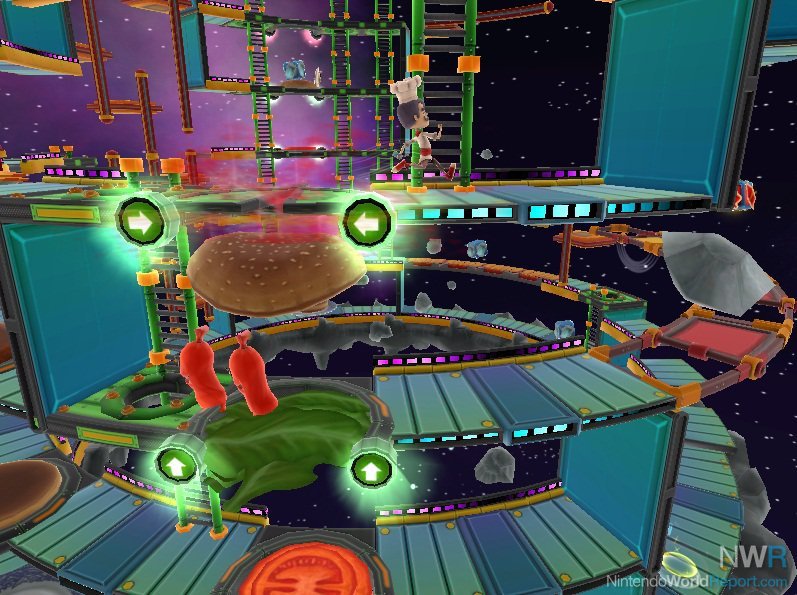 The game keeps best scores, as well as times for each stage. Two-player split-screen is also included, though I did not get a chance to try it. The music is an odd mixture of the original's simplistic arcade tunes and remixes.
BurgerTime HD is an interesting and long-overdue update to the arcade classic. The game retains goals of the original, while bringing a nice balance of modernized gameplay. The title is set to launch this summer.
MonkeyPaw Games is looking for suggestions of other games to revive. You can voice your ideas at their Facebook and Twitter pages.