We lay out the characters and content in Mario's latest tennis game.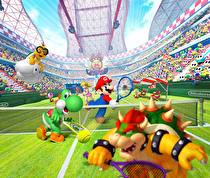 Mario Tennis Open is the first new entry in the Mario Tennis series in seven years. And we gave the last one a 10/10! With a well-loved series like Mario Tennis more or less skipping an entire generation, there is a bit of a reason to get excited for a new entry in the series that adds online multiplayer, interesting control methods, and more. Note: There is no RPG mode.
We'll update this when we get our hands on the game, so you'll be able to see how to unlock whatever goodies are nestled in this Camelot-developed package. Until then, check out what characters, courts, and special games are in Mario Tennis Open.