The voting for this part was amazingly tight.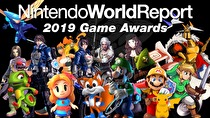 #10: Xenoblade Chronicles
Platform: Wii
Release: April 2012 (US)
As we begin the 2020s, fans of Nintendo in North America are awash in RPG goodness from Nintendo, which is a stark contrast to the protest movements that sprang up in the early part of last decade to get more RPGs localized. The Wii was on pace to end up with sales similar to the PlayStation 2 for its first few years, but there were three RPGs that seemed to be stuck in Japan. Of that oft-demanded trio, Xenoblade Chronicles was the only one that stayed in-house when it finally came out in 2012 (as a GameStop exclusive!), and Nintendo picked the best of the group to keep.
Xenoblade is a sprawling world with memorable characters and, thanks to the game's early release in Europe, one of the most memeable localizations of the decade. (It's always Reyn time. Absolutely no exceptions.) The story has multiple twists and turns, and is so engrossing that we ended up with Shulk making it into Super Smash Bros. With the Definitive Edition coming out sometime this year, more people will have a chance to experience life in Colony 9 for themselves, and I can't wait to dive back in for another 100 hours. - Donald Theriault
---
#9: Fire Emblem Awakening
Platform: 3DS
Release: February 2013
If there's a comeback developer of the decade, it's Intelligent Systems. Of their three main franchises in 2012 Advance Wars was MIA, Paper Mario got tea-tabled into something unrecognizable, and Fire Emblem had an ultamatum following two largely unsuccessful DS remakes: Sell 250,000 copies on the 3DS or it's gone for good. Fire Emblem Awakening was meant to be a series finale, as it did "Everyone is here!" years before Smash would do it. And adding features from games never localized, like relationships leading to children and a toggle for the permanent death of units, made the game more accessible for an audience that it turns out was starving for quality RPGs.
Although the quality of its followups hasn't lived up to Awakening for several years, Fire Emblem is an A-tier franchise for Nintendo now, and if you said that in 2010 I'd look at you like you have two heads. And it's all thanks to the Shepherds - Donald Theriault
---
#8: Donkey Kong Country: Tropical Freeze
Platform: Wii U / Switch
Release: February 2014 / May 2018
Donkey Kong Country Tropical Freeze isn't just one of the greatest platformers of the decade, but one of the greatest platformers of all time. Every level is expertly crafted and feels unique to one another and, with the addition of Dixie Kong and Cranky Kong, as well as loads of collectibles, each level can be completed in multiple different ways. There is no better example of creativity, love, and most of all, pure fun in the past ten years. - Brett Posner-Ferdman
---
#7: Animal Crossing: New Leaf
Platform: 3DS
Release: June 2013
Animal Crossing New Leaf is a perfect example of a timesink done right. Whether it be picking weeds, hanging out with your townsfolk, or starting a new public works project, eveything you do is rewarding and enjoyable. No other game this year has consistantly brought me back on every holiday for nearly seven years now. New Leaf is the definitive Animal Crossing game, that is, until its successor New Horizons comes out later next month. - Brett Posner-Ferdman
---
#6: Shovel Knight: Treasure Trove
Platform: Wii U / 3DS / Switch
Release: April 2014, September 2015, March 2017, December 2019
Publisher: Yacht Club Games
Shovel Knight has become synonymous with the rise of indie games, and for good reason. Featuring tight controls, a bopping soundtrack, incredible pixel art, hilarious writing, and a whopping four expansions (three new campaigns and a Smash-lite battle mode) it's hard to deny the sheer value proposition of Treasure Trove, but it's still the original "Shovel of Hope" that truly makes the package shine. Combining elements of Zelda 2, DuckTales, and Mega Man, it's an expertly-crafted adventure that cannot be matched by its sister campaigns (although "Specter of Torment" comes close). And it's not just the gameplay—Yacht Club Games has gifted us with a stable of loveable characters who will surely continue popping up in that studio's future efforts. Perhaps a Black Knight-centric sequel? We can only dream. Shovel Knight is that rare NES game that doesn't require rose-tinted glasses to appreciate. For Shovelry! - Jordan Rudek / Zach Miller