It's a devilishly good week for video games.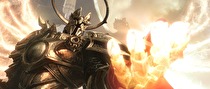 Games are fun. Games are awesome. And as we all know, we can get excitable about them. Hyperbolic if you will. With that in mind, we're going to lean into it. Here's our Games of the Year of the Week, or GOTYOTW for short.
We'll venture to do this each week, but we will be experimenting with the format. It's going to be a loose format, while most will be recent releases, but it might just be a game a staffer has been loving recently. Let us know what you think of this and also let us know your Game of the Year of the Week.
Diablo III: Eternal Collection
It's been a long time since I played a Diablo game. In that time, Diablo III finally came out in 2012 and got refined into a beautiful, shining experience that is now on Switch. The variety found in every character class is wonderful and the degree of tinkering and customization is vast. The dungeon-crawling action-RPG is blissful even as hellish demons wage war with you. To top it off, it's an excellent multiplayer experience whether you're playing online or locally. Diablo III on Switch is fantastic regardless of if it's your first time playing the game (like me) or you binged hard on the original release (like our reviewer Jordan Rudek). - Neal Ronaghan
Taiko no Tatsujin: Drum 'n' Fun!
After a long wait, the Taiko no Tatsujin series has finally made an official appearance in North America after a decade and a debut in Europe and Australia. Taiko no Tatsujin: Drum 'n' Fun will be released internationally on Friday and I can barely contain my excitement for it as it perfectly encapsulates both the console and arcade versions. The different ways to control it from motion controls to even a drum controller made to work like the arcade versions are incredible. Their song selection is also something that should be recognized as it is both diverse and massive, containing songs from various anime, games, and genres. While at the time of writing this, it is unknown currently what songs will be cut or added to the international versions, but having a library with over 70 amazing songs and each with varying difficulty will keep you entertained for endless hours. - Matthew Olivo
Gal Metal
While you could assume that this represents a drum-centric return to the likes of Guitar Hero in this case you'd be quite wrong. Featuring a ton of quirk, aliens who'll only be stopped from destroying the Earth with rock music, and random socializing with your bandmates it has a lot going on. Musically, the emphasis is less on rote execution ala most music games, and instead gives you building blocks of beats you can use that it then wants you to expand on and improvise with. While it won't be for everyone, it is a unique experience and a pretty good time. - Justin Nation (and Daan Koopman's review has more details.
Dragalia Lost
I am now hunting down Daoko music wherever I can find it on the internet, and it's all the fault of Dragalia Lost. (Tracks from the Japanese rapper and singer populate the title's soundtrack, especially the Main Menu earworm inclusion of her song "Cinderella Step"). Nintendo and Cygames' new mobile title is an action-RPG, which makes using characters or items that aren't technically super-optimal almost a non-issue compared to the high-risk tactical combat of Fire Emblem Heroes. And yes, this Nintendo Mobile title monetizes through microtransactions and gatcha-style randomized character purchases, but the internet is already replete with stories of people interacting with high-end content without having spent a dime. Indeed, the game has several ways in which budget-conscious players can start with the same resources as a high-roller but get way more rewards if they're willing to exercise a little patience. Even with the game's challenging time-limited events and raids, I'm actually already comfortable with the roster of characters and items I have, and looking forward to more and more free content (and yes, the occasional real-money transaction as well). Given that this is an all-new IP from Nintendo, I sometimes wonder if Dragalia Lost would make for a great traditional JRPG Switch game… - Carmine Red
The Messenger
It came out a little while ago now, but I'm finally getting around to playing The Messenger. Even though I have no experience with things like Ninja Gaiden or the other NES games it's inspired by, the great reception it got upon release, and in particular the effusive praise from our own Neal Ronaghan, convinced me to give it a shot, and I'm really glad I did. The level and enemy design is really well done, and as with most great retro-inspired games it offsets the stiff challenge with frequent checkpoints to keep things manageable. Sometimes these kinds of games rely too much on nostalgia, but surprisingly I'm finding The Messenger to be one of my favorite games this year without any of it whatsoever. - J.P. Corbran
Mutant Football League
As the release of this successor to the 16-bit Mutant League Football lineage approached, I'll admit I was feeling pretty nervous. With so many years since those titles were released and with the coming and going of the arcade football franchise NFL Blitz, the legitimate question is whether that format can still work. While it isn't perfect and I've seen reports of issues with it crashing (though I've played five games now without one) I'm happy to report that if you love football and enjoy something a bit more brutal, unpredictable, and commentary that gets pretty profane and out there you should dig this. Budding franchise builders should even appreciate the included Dynasty mode that layers on trades and management, though how well that's implemented may be open to interpretation. - Justin Nation