Check out pictures of Nintendo merchandise seen at this year's show!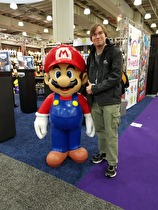 You guys know that I'm a big Nintendo collector, so when, at the last minute, I was given the chance to attend Toy Fair, I jumped at the opportunity. I tried my best to hit up any company that has the Nintendo license in order to share pictures and info with the readers here at Nintendo World Report.
So, please enjoy this photo roundup of Nintendo merchandise seen at the show. Some of it has already been released, some has not. Either way, a ton of cool stuff was on display, and it was nice talking with the hardworking people behind it all.