Speeding into one of our top ten slots.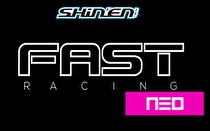 It seems that Developer Shin'en heard the cries of the faithful F-Zero fans when setting out to make this game, and it has not failed to meet expectations.
Fast Racing Neo is a futuristic, arcade style, high-speed 3D racer for the Wii U. This eshop exclusive title features 16 gorgeous tracks split up into four different cups, with three different difficulty levels. In addition to the Championship Cup mode, Fast Racing Neo features a Hero mode that changes the rules to create an even greater challenge with a strong spiritual tie to F-Zero. Local multiplayer and online multiplayer are also included.
Fast Racing Neo also throws in an interesting new mechanic that involves orange and blue colored speed pads. In order to gain the speed boost, the player must quickly swap their vehicle between the two colors. If the player selects the wrong color their vehicle will be significantly slowed down when racing over a pad. While simple, this mechanic throws in an extra dimension of reflex multitasking that makes racing an enjoyable challenge for mental and motor reflexes.
Fast Racing Neo is a polished combo of fun gameplay, challenge, and presentation that does a great job bandaging the bleeding caused by the F-Zero sized wound in our hearts. For this it earns a spot on our favorite ten games of the year.