AKB48+Me, Picross, Animal Crossing and a skyscraper building puzzle game all make appearances this week.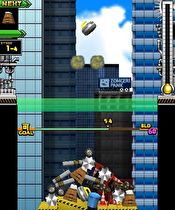 There are a couple of pieces of software that released on the eShop this week that could garner some interest from...well, AKB48 fans at least! Aside from that, golf lovers or fans of Picross in Japan are in luck. Here's a list of all the content that became available on the eShop in Japan this week:
3DS Downloadable Titles
Akiraku Golf 3D – 500 yen
AKB48+Me – 5,670 yen
Sengoku Musō Chronicle 2nd (Samurai Warriors Chronicles 2) – 5,400 yen
Virtual Console
Picross 2 (Game Boy) – 400 yen
Video Content
There are a few different videos uploaded to the eShop this week. The first of which is a preview for a downloadable game coming out next week called Chō Kōsō Kenzō Keikaku Buildinga, which translates to something like, Plan to Build a Skyscraper: Buldinga. The game starts with building parts that fall from above (kind of like Tetris) and it is your job to balance to them. While balancing these parts, a gauge is filling up towards the top of the screen. Once that gauge is filled, you can then build. If you continue to make mistakes balancing the parts, you will soon be treated with a game over. To make this even more challenging, your progress will be impeded by things like wind gusts, birds and other obstacles. The game was developed by G-Style and is releasing on the eShop on October 31 in Japan.
Aside from the preview of one of next week's downloadable titles, Nintendo added the most recent commercials for Tobidase Dōbutsu no Mori (Animal Crossing 3DS). The commercials show off a lot of what is familiar about the series (watering plants, talking with villages, etc) as well as some new things that your characters can do (for example, swimming). They also made it a point to mention that gamers can pick up a digital version so they will always have it on their 3DS. Tobidase Dōbutsu no Mori will be released both at retail and in digital form on November 8 in Japan.