There's lots to love for fans of old school Famicom games. Oh yeah, and an EX Troopers demo.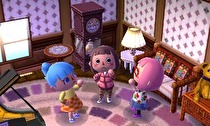 The eShop in Japan this week received a pretty decent line-up of Famicom classics for the handheld Virtual Console, even though the other sections of the shop were left a bit barren. We did manage to get a new demo out of it, though! Let's take a look at all of the content from on eShop this week:
3DS Downloadable Titles
EX Troopers DEMO - FREE
Virtual Console
Akumajō Dracula (Castlevania, Famicom Disk System) – 500 yen
Rock Man 4: Aratanaru Yabō (Mega Man 4, Famicom) – 500 yen
Donkey Kong (Famicom) – 500 yen
Video Content
There isn't a whole lot of fresh new stuff in terms of video related content this week. Nintendo did put together a new preview for Animal Crossing, however, it is composed of a lot of the same video clips that were used in the Animal Crossing Direct from earlier this month. It is approximately seven minutes in length, which is a bit more digestible than the nearly 50 minute long presentation and gets right to the information that you want to know. For example, how you're the mayor, how you can interact with other players via local or online play, and how you can personalize your town to your own needs and desires.
There are a few new commercials on the eShop as well, including one for Bravely Default, AKB48+Me and one talking up the new color variations for the 3DS LL (XL). There is also a new section on the eShop that has a collection of nearly all of the information and software for the most popular RPGs that have been released on DSi Ware, Virtual Console, or as a 3DS Downloadable title.